Quick and Easy Breakfasts and Brunches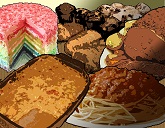 Pancakes and Sausage Gravy:
For 4 servings.
 
2 C. Jiffy Baking Mix
2 cans of Libby Sausage Gravy
Mix 2 cups of Jiffy Baking Mix (Same as Bisquick, but cheaper) with enough water or milk to make pancake batter.  If you want more fortified pancakes, add one egg per person to batter.
Make the pancakes as you usually do.  I prefer small ones.  Stack.
In microwave, heat both cans of sausage gravy.
Spoon over pancakes on plate. Serve.

Crescent Roll Casserole:
Serves 4-6
2 Pillsbury Crescent Roll packages
1 Cup ham diced or 1 pound of loose sausage (or kielbasa cut in slices and fried in skillet beforehand)
1 Cup broccoli diced into small pieces
1 Cup cauliflower cut into small pieces
1 Cup shredded cheese
Take one of the Pillsbury crescent roll dough's and open completely.  Smooth finger over perforated lines. 
Spray a glass baking dish.  Spread first dough over bottom and sides.  In bowl, mix cauliflower, broccoli and choice of meat.
Spread this mixture over the first dough in baking dish.  Sprinkle shredded cheese over mixture.
Take the 2nd dough.  Now comes the creativity.  You can use them as triangles arranged over top.  You can roll the dough flat and cut strips and lattice the dough, or you can simple do the 2nd dough as the first and make a "pie" of the casserole.
Bake as Crescent Roll package suggests.
Serve with Ranch Dressing drizzled over top.
You can substitute the veggies I have suggested to ones you have fresh or ones you like better.  This is just how my family likes it.
Breakfast Skillet Meal:
Serves 4-6
I start with a large deep skillet over  medium heat.  You will be adding ingredients to the mix, so keep a big spoon handy.
Loose sausage or ham diced. (1 pound of sausage or 3 cups of diced ham)
4 small Potatoes diced (which will require more cooking time) or 2 cans of diced potatoes
1 Green pepper cut into small pieces
half of an onion diced small
1 can of whole kernel corn
1 can of diced tomatoes or fresh if you have  (remember more cooking time)
Couple of garlic cloves smashed
1 small zucchini diced (if you like this)
Broccoli florets diced
Cauliflower florets diced
2 cups shredded cheese
Start with the browned meat (sausage) and the diced tomatoes.  Get this nice and hot, add in the potatoes.  Then add the broccoli and cauliflower, zucchini and onions and garlic.
Let this cook and the juices reduce.  When to the point you like, reduce heat and spread top with shredded cheese.  Put a lid on the mixture while you set the table.  Will be a hit.  You can substitute the veggies you like or add more.  Just remember the cooking times for the ingredients. Great with biscuits.

Jiffy Mix biscuits:
Makes about 10
Combine 2 cups of Jiffy Baking Mix with enough water or milk to make a soft dough.  Turn this onto a floured surface.  With floured fingers smooth flat, or use a rolling pin.  Remember to work fast, too much working the dough will reduce the yeast action. 
Use biscuit cutter to make biscuits.  Arrange on a cooking sprayed metal baking pan.  (I use an old one that is warped.  Had it for years.  I think it is lucky!)
Bake in oven according to instructions on box of Jiffy Baking Mix.

Biscuits and Sausage Gravy:
Use the biscuit recipe previously listed and purchase 2 cans of Libby's Sausage Gravy.  After biscuits are finished baking, split them and arrange on plate.  Heat Sausage gravy in microwave and spoon over the biscuits.  Very filling and yummy.

Beef Tips and Noodles (or Rice)
Serves 2-4
Purchase Hormel Beef Tips and Gravy from the refrigerated section of your grocery.  Make noodles as you usually do, or make brown Minute rice.
The Beef Tips take 4 minutes in microwave and the rice takes 9 minutes in microwave.
Arrange noodles or rice on a plate.  Spoon the beef tips and gravy over them.  Will feed 2 nicely or 4 with a salad added.

Mexican Casserole:
Serves 4-6
Large Tortilla shells
2 Cups diced tomatoes or l large can
1 pound of ground meat
2 cups shredded cheese
1 can refried beans
1/2 Cup diced onions
Olives if you want to include or mushrooms
I use a glass square dish. (make sure it is deep)
Spray the sides and bottom with cooking spray.
layer tortilla shell, then thin layer of refried beans, ground been, tomatoes, onions (and olives and mushrooms if you like) and  top with shredded cheese.  Do this three times.  On top layer, use the rest of the cheese.  If you want, you can put French fried onions over that on top.  Your choice.  Bake in over for 25 minutes at 350 degrees.  You are just warming ingredients and melting cheese.  Serve with a salad or just the casserole.
Crab Dip:
 1 Can drained crab meat (found where tuna is in grocery store)
8 oz Cream Cheese softened
1 C mayonnaise (do not use Miracle Whip)
2 Tblsp Worcestershire sauce
 Mix together and put in a greased casserole dish.
Bake at 350 degrees for about 20 minutes
(Gets bubbly)
Serve with crackers
Pepperoni Dip:
 1 Can Cream of Celery  Soup
8 oz Cream Cheese softened
4-6 oz pepperoni slices quartered or mini pepperoni
Mix together and put in greased casserole dish.
Bake 350 degrees for about 20 minutes.
Fabulous moist cake:
 Any cake mix (white or yellow--not flavored ones
1 Can Pie Filling (any flavor)
3 eggs
 Do not follow cake mix directions.  Just cake mix, 3 eggs and pie filling.
Put in a greased cake pan and bake 350 for 25-35 minutes.  Test with a toothpick.
This is a modernized version of my grandma's "pinch me cake".

Have these ready for assembly:
Bundt pan, shallow bowl of sugar and cinnamon, shallow bowl of melted butter and two tubes of Pillsbury Grands biscuits.
Cut the biscuits in quarters, round slightly, and dip in butter, then in cinnamon sugar.  Place in Bundt pan in random places.  Fill Bundt pan to top.  I sprinkle the rest of the sugar cinnamon over the top, then drizzle some of the butter over this.  Bake as biscuits request, but a little longer.  When they are "golden brown" they are done.  Let the pan sit for a little while to cool.  Invert this on a cake plate.  Now is the fun!  Make a large pot of coffee or tea and invite your friends over.  Put the "cake" in the middle of the table.  Put napkins all around. Give each person a small plate.  Now, pinch off a piece and enjoy.  The entire "cake" will be in pieces that will come apart with just a little pinch.  Conversation and Pinch Me Cake go very well together and it is very easy to create.  I think of my Grandma every time I see this "cake".
Mushroom Rice
You will need a can of Cream of Mushroom Soup and 2 1/2 cups of Instant Rice.
In a casserole dish that is microwaveable, put your soup and its can of water.  Use a whisk to combine the two into a smooth liquid.
Add the instant rice and mix.  Make sure the rice is moistened.  Cook in a microwave per the directions of the instant rice.
This side dish will make a very flavorful addition to any meal.
The 15-minute BLT
You will need:
2 slices of bread per sandwich
Pre-cooked bacon in family size
Large ripe tomato
Mayo or Miracle Whip
2 leaves of lettuce per sandwich
Put the bread in the toaster.
Put the bacon in the microwave
Prepare your lettuce to match the size of the bread.
Slice your tomato, one slice per sandwich.
When the bread is toasted, put your mayo or Miracle Whip on both sides.
Put your lettuce on the bread next. 
Put the tomato on top of the lettuce.  Salt and pepper the tomato.
Arrange your bacon  to match the width of the bread.   Break pieces to match width then add what is left to fill in.
Now add the second piece and cut cross wise. 
Serve with a cup of tomato soup or a few potato chips.

Copywriter: Karen B. Cardwell 2012.   Email me at: cradwell.kc@Gmail.Com 
 Tweet me at: Karen Cardwell@blairie12.
 Original Artwork Images by Tom Wilson.