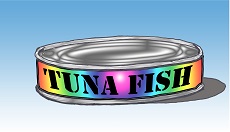 Tuna Recipes
Tuna and Noodles
1 Family pack StarKist tuna or equivalent cans of tuna
1 pound of curly noodles
1/4 cup margarine
Salt and pepper
Most people make a "tuna casserole". I never liked all of the ingredients. I love tuna and I love noodles.
I cook the noodles in a Pasta-N-More which cooks the noodles in the microwave, or just cook them in a pan with water.
Put these in a bowl.
In a skillet, melt the margarine and add the tuna. When this mixture is hot, pour it over the noodles in your bowl.
Mix well.
Serve in a bowl. A simple and low cost meal for 4.
Tuna Boats
Ingredients
Tuna (Family size Star Kist or 2 cans of tuna)
¼ c. mayonnaise (or Miracle Whip)
Onion
Shredded cheese
Hot dog buns
This recipe is a spin off of tuna salad.
I prepare tuna salad using a Family pack StarKist tuna or equivalent cans of tuna. I dice half of an onion into small pieces
and mix it with the mayonnaise or Miracle Whip. Mix well. Divide mixture into the 8 hot dog buns. Top with shredded cheese
and bake at 350F for about 15 minutes. You want to melt the cheese and heat the tuna salad.
Tuna boats can be made on the grill. Make them and roll in foil and grill for about 10 minutes.
Tuna salad sandwiches for lunch:
Prepare the tuna salad as described above. Toast your bread in toaster. Divide the mixture between 4 sandwiches (8 pieces of
toasted bread) Serve with a large pickle, or a cup of tomato soup (store brand with salt and garlic powder added)
Tuna Ball for parties
¼ cup onion chopped fine
¾ cup pecans chopped coarse
1-6oz can of tuna
1-8-oz cream cheese (softened)
Chop the onions, and add to the cream cheese. Mix this with the tuna. Be sure to flake the tuna well or you will have lumps of tuna
in your ball. After this is creamed well, shape into a ball and roll it over pecans laid on waxed paper. When coated well, chill for
at least an hour before you serve.
Cracker suggestions are: Town House crackers, Bagel chips. You need a sturdy cracker to spread this onto.

Copywriter: Karen B. Cardwell 2012.   Email me at: cradwell.kc@Gmail.Com 
 Tweet me at: Karen Cardwell@blairie12.
 Original Artwork Images by Tom Wilson.