Mac and Cheese with Meat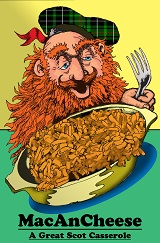 Mac and cheese with ground beef—Comfort food for me.
I have certain foods that remind me of my childhood with my grand parents. One of those meals is Mac and cheese with ground beef. I have updated this recipe from grandma's baked mac and cheese, which took the better part of three hours to make to a recipe that take about half an hour.

I use Velveeta Shells and Cheese and ground beef. I have a favorite "appliance" in my kitchen called "Pasta 'N' More. It is a microwave safe plastic oval container that has several lids and can steam as well as cook pasta in the microwave. I put the shells into the "Pasta 'N' More" bowl, fill it to level "4" and put it in the microwave for 14 minutes. I have used this pasta cooker for years. In fact, I love it so much, I have purchased a second one that I store in my basement in case the first one goes awry.
If you do not have this "appliance", just prepare the shells in boiling water in a large pot. Drain and add this to a bowl of browned ground beef. The cheese from the pouch mixes with the beef and it is truly a comfort meal for me. I have used this for unexpected company with a salad and have had rave results. My hubby and I love this quick meal. It can be completed in half an hour using the "Pasta 'N' More, or a little bit longer with boiling the shells in a pot of boiling water.

Either way, it is a treat for after a long day at work. We have to make dinner, regardless to how our days are. I have used this "appliance" for spaghetti and all kinds of pastas. I got my first one from Publishers Clearing House. I have found it at department stores. I love that I can cook pasta quickly—in fact, while I have the other ingredients for the meal completed.
My family loves pasta!
Copywriter: Karen B. Cardwell 2012.   Email me at: cradwell.kc@Gmail.Com 
 Tweet me at: Karen Cardwell@blairie12.
 Original Artwork Images by Tom Wilson.